xx


The upper level of Dome cars is located near the center of the car with stairs at one end. The upper level provides optimum viewing of passing scenery. Dome cars offer multi purpose capabilities. They have three Deluxe Double bedrooms, a full or service kitchen, lounge and/or dining areas. Car configurations provide operating flexibility that allows them to operate alone or in Train Sets having up to five cars.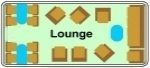 Dome cars can't operate on some of Amtrak's northeast USA routes because of height restrictions.
America's Trains dome car quality and characteristics exceed or equal the world's best.

See the following for related Car information.