xx
Chicago Eastward
– 8 Days and 7 Nights
Live on board your luxurious rail Car while visiting


Chicago – Buffalo, Niagara Falls – Albany – Montreal – New York
DEPARTURE DATE(S)
Early 2018 – Check with reservations


xx



FARE(S)
Per person, Master Suite accommodations, double occupancy – $6,938
3rd passenger in Master Suite – $750
Single passenger, 150% of double occupancy per person fare
Per person, additional night on board before or after scheduled Journey (if available) – $250 
Early confirmed booking/reservation discounts:
210 or more days in advance 16% – 175 days 11% – 140 days 8% – 105 days 5%
Click on Specials for limited time fare/price reductions and other travel benefits
If a Journey by Rail itinerary includes Cars parking overnight at an initial departure or final arrival
location to allow passengers to stay on board while visiting adjacent areas, passengers living
nearby may prefer to not stay on board during these nights. In this event, they can get a related
fare reduction equal to $250 per night per person for each such night.
Click on Comparable Train Vacations for fare comparisons.
RESERVATIONS, DEPOSITS, PAYMENTS
Provisional reservation: A specific Journey can be held by making a provisional reservation, at no cost and with no obligation, at any time before 175 days prior to the departure date. However, if at any time another firm request for the same Journey occurs, a normal confirmed reservation deposit is required to hold the provisional reservation, payable within five days after being given a related notice by confirmed email, mail, mobile phone text or telephone. Otherwise, the provisional reservation can be cancelled. 
Confirmed reservation deposit: $50 per person more than 175 days before the departure date to guarantee a provisional reservation;  increasing to $100 per person 175 days before departure; increasing to $250 per person 133 days before departure; increasing to full payment 91 days before departure. All deposits are refundable as described below.

Refunds: A full refund of all amounts paid is made to passengers that cancel a confirmed reservation more than 91 days before a departure date; thereafter, the refund is equal to all amounts paid less 1% of such amounts for each day under 91 until and including the 14th day before the departure date; thereafter no refund is paid or owed. The date of a cancellation is the date that the respective Rez Center receives notice of such cancellation by confirmed email or regular mail.
Deposits and full payments are held until the respective Journey departure date, as required to specifically provide for all respective Journey by Rail expenses, or potential refunds.
Reservations, payment, refunds, use of Cars and availability of Journeys by Rail are governed by Terms and Conditions.


JOURNEY BY RAIL DESCRIPTION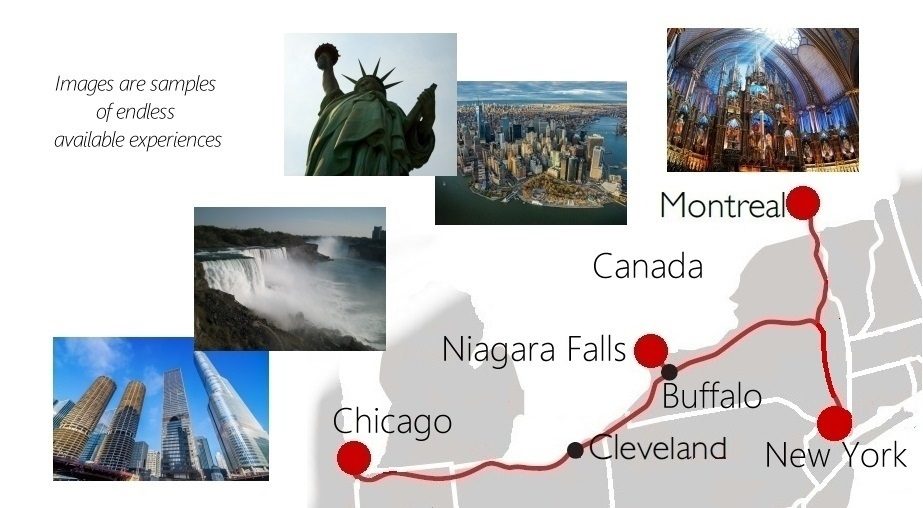 Day 1 – Saturday – Chicago
Board at any time after 4:00 pm
Enjoy all-inclusive comforts living on your luxurious rail Car while you
Visit Chicago
Click on Activities, Chicago to see some of the many optional things to do
Overnight in Chicago, on board

Day 2 – Sunday – Chicago
Visit Chicago
Depart Chicago late evening
Overnight en-route, on board
Day 3 – Monday – Buffalo, Niagara Falls
Arrive Buffalo very early morning
Enjoy all-inclusive comforts living on your luxurious rail Car while you
enjoy a full day tour of Niagara Falls and related areas, included
Click on Activities, Niagara Falls to see some of the many optional things to do
Overnight in Buffalo, on board

Day 4 – Tuesday – En route travel – Montreal
Depart Buffalo early morning – Arrive Montreal early evening
Enjoy all-inclusive comforts living on your luxurious rail Car while you
Visit Montreal 
Click on Activities, Montreal to see some of the many optional things to do
Overnight in Montreal, on board

Day 5 – Wednesday – Montreal
Visit Montreal

Overnight in Montreal, on board
Day 6 – Thursday – Montreal – En-route travel – New York
Depart Montreal mid morning –  Arrive New York mid evening
Enjoy all-inclusive comforts living on your luxurious rail Car while you
Visit New York
Click on Activities, New York to see some of the many optional things to do
Overnight in New York, on board
Day 7 – Friday – New York
Visit New York
Overnight in New York, on board
Day 8 – Saturday – New York
New York
Disembark at noon

For other Journeys go to More Itineraries
Journeys are subject to Terms and Conditions
Itinerary changes may occur to further enhance Journey experiences or based on Amtrak requirements
Fares and routes are subject to change without notice