xx


Most Private Cars (also know as business cars) are older "heavyweight" cars typically with six axles compared to four on normal passenger cars, which improves already comfortable riding qualities. Their basic/original configuration remains suitable but equipment and appliances need to be rebuilt and modernized while respecting the original interior ambiance.
Until the late 1960s, the most luxurious Private Cars (with two or three bedrooms, a dining room, lounges and on board crew) were enjoyed by a limited number of individuals and corporations able to afford this elite form of transportation.
Private car travel was replaced by a growing highway system and commercial or private jet aircraft. Cars were laid up and as time passed they no longer met new and revised mechanical requirements.
America's Trains rehabilitates Private Cars and offers them as a most prestigious form of travel for individual Journey by Rail vacations, and through car shared ownership (Train'Shares and Fractional Interests).
Cars normally feature an outdoor platform allowing passengers to enjoy the passing scenery.

Older Private Cars bedrooms had full bathrooms. Private Cars that are rebuilt by America's Trains have two or three bedrooms, each having full bathrooms with a shower. Occupancy varies between 4 and 8 passengers depending on Car design and passenger requirements.

Passengers can select any route of their preference.
Private Cars are unique among and their quality and characteristics exceed or equals the world's best.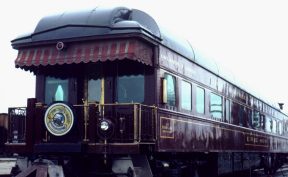 Some images may be examples that do not exceed expectations