XX
Train'Share Journeys by Rail
An extraordinary way to experience America
Train'Shares include the attractive and eliminate potentially undesirable aspects of timeshare vacation ownership. They provide an exceptional way to enjoy a combination of the best timesharing
benefits and exclusive, distinctive all-inclusive Journeys by Rail, traveling as part of Amtrak or other trains; possibly the most unique, finest all-inclusive luxury vacation in the USA.
Journeys by Rail feature deluxe accommodations with large beds and private bathrooms, exceptional dining, com
plimentary beverages, exquisite service, one of a kind on board enjoyment, and lots of organized and 
optional things to do during layovers at en-route destinations, plus various typical timeshare and unique Train'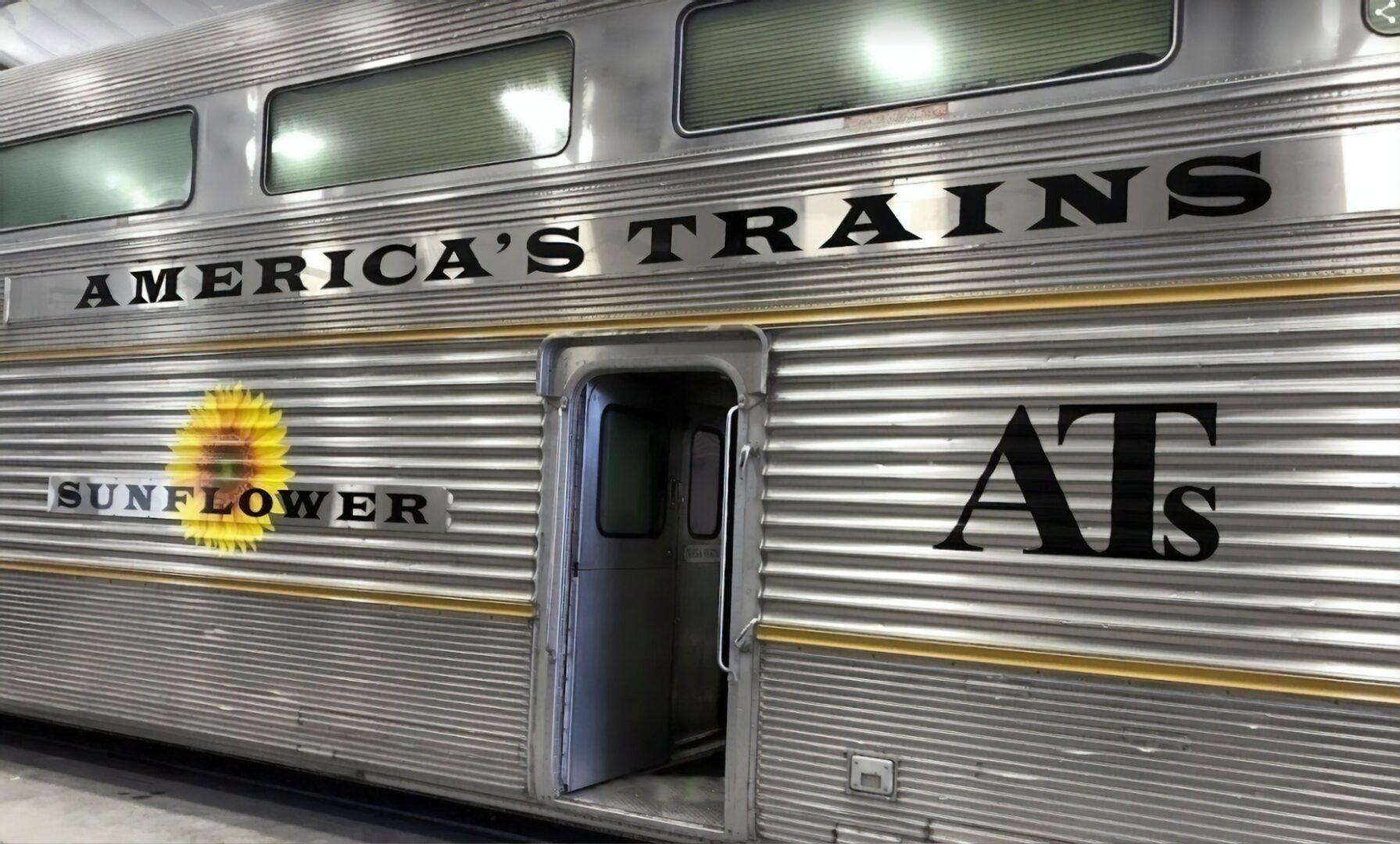 Share owner benefits.
Annual or biennial (every second year) Train'Share ownership is for an initial 10 year term or a perpetual term which is for the life of rail cars. Adequately maintained cars built in the 1930s are still operating. A 10 year term can be converted to a perpetual term.
Train'Share ownership is represented by a number of points, each point having a value of $1.00 for the purpose of acquiring (paying for) Journey vacations at a price equal to the lowest prevailing individual Journey fare for the selected Journey.
Points are for one year but are automatically renewed each year during the term of ownership at no cost.
The present retail purchase price of initial 10 year term points is $1.70 each, which is temporarily discounted to a Covid-19 induced purchase price of $1.53. The cost to convert initial term points to perpetual term points at a future time will be $0.92 per point (60% of the discounted initial term purchase price), making the total perpetual term cost $2.45 per point. The discounted immediate purchase price of perpetual term points is $2.07 per point (135% of the present discounted initial term purchase price).
A 10 year term Train'Share can be converted to a perpetual term by the purchase of extended term points.
Points can be used to acquire one or more Journeys in the same year, pursuant to Train'Share purchase agreement terms. The average individual Journey is for eight days and seven nights in a Master Suite bedroom; the present individual Journey fare is $14,900 for two passengers, $7,495 per person. Therefore, 14,900 points are needed to acquire this Journey for a 10 year term at a one time purchase price of $22,797 (14,900 points X $1.53 per point), which is $1,140 per person per Journey.
Buyers should purchase a number of points based on the fares for and number of Journeys they expect to use each year.
If an Owner doesn't have enough points to pay for a selected journey, additional points can be purchased, future year points can be used on a space available basis, or the difference can be paid in cash.
Unused points in any year can be carried over to acquire Journeys on a space available basis during the following two years. Thereafter such points are forfeited.
Owners have the option to purchase more points at any time at the same price as the original purchase price.
Points can be sold or loaned to other persons.
Future year points can be used in advance to acquire Journeys on a space available basis.
Points can also be used to purchase other travel services, if available, and can be exchanged for a worldwide selection of resort vacations through the timeshare exchange company RCI.
The average purchase price of all U.S. timeshares with vacations for the same number of days as an average Train'Share Journey is about $22,180, which includes many cheaper lower quality properties. The price of upscale timeshares comparable to Train'Shares can exceed $30,000.
Train'Share Owners have rights to use Journeys that include a seven night designated time period or at any other available times.
Train'Share Owners are members of a Train'Share Owner's Association which manages Owner interests.
Owners pay a Journey use fee for each Journey used which varies slightly based on specific Journey costs that include the locomotive (engine), other Car movement and on-board passenger services, and Association administration expenses. The Journey use fee for an average eight day seven night Journey is presently $4,900. Total costs per Journey and related fees should (but may not) diminish as the number of cars and Journeys increases. Fees are lower than combined similar costs for equivalent real estate timeshares.
The total cost of Train'Share Journeys, including the initial purchase price adjusted for a one year period plus the Journey use fee, is lower than equivalent luxury resort, timeshare and foreign train vacations.
Train'Share rights eliminate perceived and possible timeshare ownership concerns because they include the following uncommon benefits:
Owners don't have to pay Journey use fees if they don't want to use a specific Journey. They can assign use to and the Association will pay the fee.

ATs guarantees that Journey use fees will not exceed predetermined, reasonable, Owner approved amounts.

If Train'Share Owners don't enjoy their first Journey, they can sell their Train'Share and related points back to ATs for a price equal to what they paid for them, less the value of Journeys that the Owner has used; the value is based on fares for similar individual Journeys.

There is only one fee, the Journey use fee. There are no taxes are additional administrative or other charges.

The retail value of unused Journeys by Rail and related market demand establishes a favorable resale price if Owners want to resell a Train'Share to a person of their choice.

Train'Share Owners have a choice of different itineraries throughout the USA and into Canada. They don't have to go to the same or choose from a few fixed location resorts.