xx


The accommodation layout, plumbing and equipment on old sleeper cars makes them unsuitable for conversion. America's Trains sleeping cars are rebuilt ex passenger coaches with modernized systems and much larger rooms.
Previous sleeping accommodations on available cars in the USA were small with up to 12 or more rooms or compartments in a single car, most sharing bathroom facilities. America's Trains' sleeping cars have six deluxe bedrooms each with full private bathrooms, or five bedrooms and a private lounge. Bedrooms are also located on other types of cars.
Cars are completely rebuilt; designed for optimum comfort.
Variable Activity Car configurations provide:
Master Suites

are about/over 105 square feet with a larger than queen bed, some convert to a sofa. A lounge chair may convert to an additional single bed. A couple of passengers have the option of sharing or sleeping in separate beds, or a third passenger can use the single bed.

Drawing Rooms

that are similar to but a bit smaller than Master Suites. Although they have a lounge chair, it may not convert to a single bed.

Classic Doubles

are a bit smaller than Master Suites with a relatively large lower single bed and an upper bunk that folds out of sight when not required. These rooms are also ideal for single passengers traveling alone.
Bedrooms are designed to provide optimum comfort. They have television, music, and Internet access most of the time.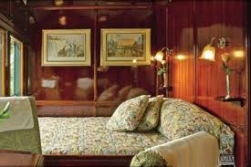 Passengers can select their preferred type of bed linen and pillows. The full bathrooms (with shower) have hairdryers and every necessary guest accessory. Plush bathrobes, slippers, 24 hour room service and optimum service is provided.
The quality and decor of bedrooms on America's Trains provides distinctive comfort.
America's Trains car quality and characteristics exceed or equal the world's best.
Images may be examples