There has been no regular, luxury vacation train service in the
United states and none that provided en-route on board layovers.
America's Trains is filling this void.

Click on respective Car types at the bottom of this page for specific information
By the early 1970s airline service and modern highways had replaced railroads as a primary way to travel in the United States.
Amtrak assumed responsibility for passenger train operations. Amtrak's normal objective is to move people between stations as quickly as possible, stopping just long enough for maintenance and to let passengers get on and off the trains. There has been no regular train service designed to provide vacations, no luxury passenger railroads, and none that allow passengers to stay on board during extended stops so that they can enjoy activities at en-route destinations.
America's

Trains fills this void with Journeys by Rail on luxurious rebuilt rail cars that travel as part of Amtrak or other trains with extended en-route layovers allowing passengers to enjoy a wide variety of activities while staying on board their luxurious resort on tracks. Cars are dropped off by one and picked up by another train.
Older passenger cars are repaired to exceed Amtrak mechanical specifications. Interiors are rebuilt to provide ultimate passenger comfort and service.
In addition to Amtrak and other technical designations, cars are identified by their individual names; which are the names of State flowers. The following examples depict the Bluebonnet dining and lounge car with two Master Suite bedrooms, and the Rose dome having three Master Suites, lounges and dining.

From two to several Cars travel together providing luxurious sleeping, lounge and dining facilities (a "Train Set"). A typical full Train Set may include two sleeping Cars each with six bedrooms, a sleeping-lounge Car with five Master Suites, a dining-lounge Car having two and a Dome Car with three Master Suites; a total of 22 deluxe bedrooms for 44 double occupancy passengers (there are some some single and rooms that can accommodate a third passenger).
A self sufficient Private Car with two or three bedrooms may travel as part of a Train Set, or can operate alone to provide very exclusive vacations for small groups and families.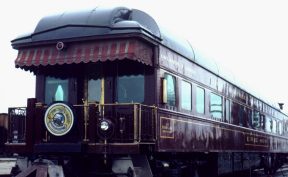 America's Trains is introducing several Train Sets, and a growing number of Private Cars. Additional activity cars with special event capabilities or that are configured for business use as traveling displays and for presentations will travel with Train Sets.
Individual Journeys by Rail are sold on Train Sets, and shared Private Cars.
Train'Shares are sold on Train Sets and shared Private Cars.
Fractional Interest (shared) ownership of Private Cars is sold.
As their improvements are completed, about 60 cars with 175 bedrooms will be introduced with five years.
Some images may be examples that do not exceed actual expectations